The Off-Season Weight Room grind is not the most glamorous part of HS Football but it is without a doubt the most important.  Getting kids excited about the weight room, getting stronger, and encouraging their teammates is essential to improving as a program.
One new addition to our off season is a concept I refer to as "RING THE BELL".
Each day we have 1 core strength lift (among other lifts).
The lift protocol in our strength phase is 4 sets of 4-5+ reps.  This means the players will pick a weight they can do 4-5 reps per set.  Their goal each set is to try to get a 6th rep out of that set.  Getting the 6th rep (the plus sign in 4-5+) means a player has progressed past that weight and gets to move up 5 lbs heavier.  This is my favorite strength training protocol and can be used year round to steadily build strength and pace when each player should move up in weight.
This is a big moment and needs to be celebrated.  Whether it is a skinny freshman 5th quarter player, or one of our varsity stars, getting that 6th rep means they have gotten stronger in that lift and they have earned the right to RING THE BELL.
I bought a bell on Amazon, mounted it to a wall in the weight room, and when a player gets that 6th Rep and moves up, they literally Ring The Bell.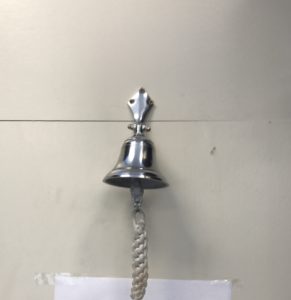 Everyone in the room gets loud and cheers on their teammate in recognition of their work and their improvement.
This is a new addition to our off season program since we have most past our introductory phase and in to our Strength Building Phase.
The players are pushing each other to get that 6th rep and RING THE BELL.
I am adding #RingTheBell to my various Social Media posts praising kids' effort in the weight room to help continue to grow this into our culture.
Check out a video from today's lift of one of my OL after he gets his 6th rep on Bench Press.