Pitt Panther's use of Power Read Shovel against Clemson
The Power Read Concept is nothing new in football.  It has taken many college and HS offenses by storm since Cam Newton and Auburn made it famous in their National Title run 6 seasons ago.  A good chunk of his rushing yards on the way to his Heisman trophy came from the power read concept.
Traditional Power Read involves some constants… the OL will block POWER.  The playside will block down or double, the backside guard will pull playside and insert onto the playside LB, and the backside tackle will check B gap to hinge on the DE.
The RB will run a sweep as the QB reads the defensive end to that side.  If he squeezes the QB gives it to the RB to run the sweep outside, if he comes upfield or out, the QB pulls the ball and follow the guard inside off tackle.
This is option football with the RB sweep being the outside threat and the QB pull being the "Dive Phase".
It looks like this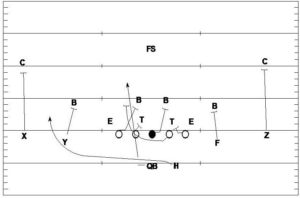 Pittsburgh worked a different version of this play as one of their main concepts in 2016.  Rather than run the QB as the Dive Phase, they used an H back/TE on a shovel pass to replace the usual QB run.  The benefit of this is it allows you to run the concept without having to run your QB.  This is beneficial for a team who either does not have an athletic QB or who wants to limit the contact that QB takes throughout the season.
Another great thing that the former Pittsburgh OC Matt Canada (Recently hired at LSU) is known for is his use of formations, shifts, and motions.  In some of these clips you will see he gets to this play from a variety of looks.
Even within the core concept of power read, with a shovel built in as the dive, or inside run, he gets into multiple looks with how the ball threatens the perimeter.
Power Read with Shovel:
Power Read with shovel: Giving Sweep
Multiple shifts/motion with Power read shovel:
Below is an End Zone Shot of the play, so you can see what the QB and OL see.  After starting in empty, RB Connor comes in Jet motion to be the sweep phase and the h back does his usual shovel.  When the DE comes upfield attacking the Jet/RB, the Qb shovels it underneath for their first TD of the game
Speed Option with Shovel: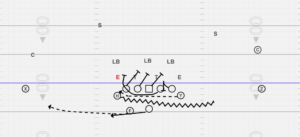 Sprint Pass paired with Power Read Shovel:
Here is a clip from earlier in the game where Pitt came out with the same look, but the DE flew upfield allowing the QB to shovel it underneath to the TE.
Play Action Deep Shot:
Here, off the same Speed Option Power Shovel Look
Pitt takes a shot down the sideline to the RB running a vertical route from the backfield for a huge TD