I want to share an awesome play action concept that was one of our best plays this past season.
Our Naked Bootleg Concept
I've run bootlegs before. We did some last season from a 100% 4 wide environment. At my alma mater we ran a lot of bootleg off of our criss cross action. This year I would say the Naked concept was cleaned up some because of the great work of Coach Grabowski..
If you haven't picked up his ibook yet, do yourself a favor and get it. There's a ton of information there that heavily influenced what we did offensively this year. We only scratched the surface this year, I plan to include more of his concepts this upcoming season.
The core components of the Naked concept
A vertical play side route… We used both the "K Route" (an inside stemmed corner) and a Go route. The K route is great because that inside stem helps sell the run action better to the Corner, thus opening up space behind him. We ended up going to a Go route at the end of the season because our K routes were getting sloppy and we weren't getting deep enough.
A deep drag or out route… from a slot or a TE.
A backside post with a hard inside stem to not out run QB's arm
A flat/DE control route – this route is the most important in my opinion. It is his job to control that back side DE… it is "Naked" meaning OL is full run flow the other way. He has to take an angle at the DE so DE thinks he will be blocked. This flat route runner can't be in a hurry to get out on his route. If the DE is up the field, he will lose his route and block the DE so the QB can set up and throw elsewhere. This was something we struggled with. We need to do a better job of picking this DE up to avoid costly sacks.
The flat route can come from anywhere. Same side, across the formation, from an H back… even a TE.
From the 21 personnel offset pistol we used last year it would look like this
Naked to the TE side. TE in this case would run the deep out. We are trying to get 15 yards deep.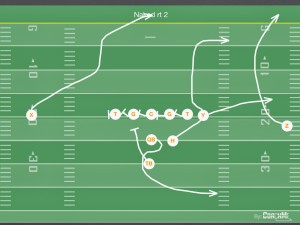 Here we have Naked going away from the TE. He now has the drag, trying to get behind LBs and be at the other hash at 15.
Here's some film with my horrible voice over. Only thing holding back my rap career is the fact that my voice isn't deep enough.
One thing you will notice from the pistol is the mesh mechanics we used. I got this from Coach Grabowski as well. It is a reverse pivot, followed by 2 steps vertical, looking back at the RB, with open hand extended. This he feels, is the best way to sell the play action. We fooled a lot of defenses, and quite often our own coaching staff (if they didn't hear the play call).
I am contemplating whether or not I want to keep the reverse out next season. I agree it sells the play action better, hides the ball well, but I felt at times, especially if it wasn't a great snap, it slowed the RB and the timing of the play down a little bit.
I want to leave you with one last concept off of naked. I put this in late in the year, I really thought we would hit it for a big play but never did. It is a wheel concept. It's drawn up below from Twins, with the TE and FB still doing the same assignments. The major difference is that I have the X running a deep post with the Z running a wheel route. I hoped the Corner would follow the Post, opening up a home run to our wheel route but the corners stayed very disciplined.
I am thinking it might be better to send X on a GO route to remove him from the picture, and hit the wheel route trailing him.
I think it definitely had big play potential, and I will continue to play with what route configuration works best for us on it.