Swing Screen with QB Counter
I spent yesterday, like most football diehards, watching the 2 College Football Playoff games.
In each game I noticed a package play… a RB swing screen to the wide side of the field, packaged with a QB GT Counter to the short side of the field.  Below I will breakdown how Alabama and Oklahoma each ran this play for explosive first downs.
The design of the play is to have 3 lead blockers on the perimeter for your RB swing to block the Corner, Sam LB, and Safety.  Bama ran there's from a 20 personnel set with my favorite RB in the world Najee Harris, and Josh Jacobs in the backfield.  Oklahoma ran theres from a spread trips formation.
The perimeter players block the screen, and the OL blocks the counter for the QB.  The QB reads the Swing side DE… if he squeezes/chases the pulling tackle throw the swing.  If he attacks the RB, tuck it and run following the pullers.
The backfield action attacking out wide, with the OL blocking counter the other way really stresses the defense and truly cuts them in half.  The box players have to respect the counter, the perimeter players have to respect the Swing screen.
In the Bama clip they're able to hit the RB swing for an explosive 22 yard play.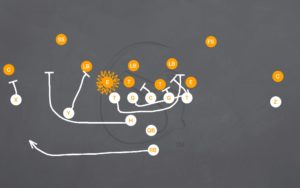 In the Oklahoma Clip Baker Mayfield keeps the ball and runs for an explosive 22 yard run.