Rewarding your Offensive Line
No matter how talented your QB or skill guys might be, we all know you will only go as far as your Offensive Line can take you.  Coming in to this season I was nervous.  The 2014 team had broken every school rushing record for a season and game, and we graduated all 5 starters.  My new 5 starters (plus our TE and our RB) were a great group of kids who embraced the GRIND of playing OL.   We spent most of our time alone in our corner of the field working block after block, rep after rep.  I try to be a source of energy for my players during INDY time to liven things up.  Working down block steps thousands of times can get boring so I found when I would go ALL IN in terms of energy level, they would match it.
I knew we would at least be OK but the Major turning point for the OL was when I introduced syrup to them.  At the end of the summer, just prior to our season starting, i was reviewing film and we just were not finishing blocks.  I explained that we would work every single drill to FINISH through the whistle ansd strive to pancake a defender every play.  I took an empty bottle of syrup, cleaned it out, and would fill it with cold water every practice.  When we got a pancake in an INDY drill from a great effort to finish I ABSOLUTELY LOST IT.  I would scream "POUR SOME SYRUP ON EM" or "PANCAKE" at the top of my lungs and pour the water on the kids on the ground (its usually 90 degrees plus so they really enjoy it).  "Get the syrup" became a common expression at our practices. It significantly improved not just our "finish" on blocks, but it amped up the in practice competition level.  Guys wanted to pancake other kids, and they wanted to get revenge if they were the ones who got pancaked.
That was just a little background that leads me to the real point of this post.  This OL (along with our great RBs/WRs) improved on last years record breaking totals by over 800 yards.  We rushed for over 4400 yards and had a team average of 9.3 yards per carry (best of all medium and large size schools in our area).
Below is a simple step by step of what I did to recognize the starting OL, our TE, and our FB  for their work.
I made each their own brand of syrup.
print a pic of each player
buy 7 bottles of syrup (or as many as you want to make). Dollar store is cheapest
trace the label and make a stencil
4. Trace the stencil over the pics you want and cut them out
5. use glue/adhesive spray to glue the label on to each syrup bottle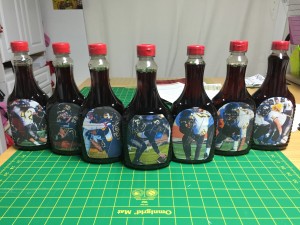 6. Get stickers from a craft store and put the players' jersey numbers on the bottle
At our awards banquet Sunday night our RB was given the Offensive MVP Award (no surprise if you know who he is).  After I gave a speech about him and his accomplishments and brought him up front for the award I had HIM help me pass out the syrup bottles to recognize his OL/TE/FB for all of their work in blocking for him.
Here I am with our starting OL, TE, FB, and our RB.

Conclusion:
This is a cheap, easy thing all OL coaches can do to recognize their OL.  It cost $7 in syrup.  A few dollars in stickers.  It took me about 10 minutes to download the pics from a website and print them.  My GF helped me trace, cut, and glue the pics on to the syrup bottles.  It took us less than 30 minutes from start to finish.  So for about 10 bucks and an hour tops, you can make something to give your OL that they can cherish and has a deeper meaning to them.  it is a symbol of ALL those reps throughout the summer and season, all of those steps, all of those blocks, all of that work.