Power Variations #4 – Power Arc
Any well coached defense is going to have answers to try and shut down your base plays.  Most teams will try to stop POWER by coaching up their DEs to squeeze the down block and blow up the FB.
Power Arc is a great way to handle well coached DEs who do a great job with block down step down.
This is the simplest tweak we have in my opinion.  "Arc" simply tells our end man (could be the TE or the OT to the weakside) to Arc release instead of their usual down block.  They will open up wide, trying to clear the DE, and block the defenses force (OLB/SS depending on defense).
So while we are running power, that DE is seeing a reach block, the better coached the DE is the more effective this tag is.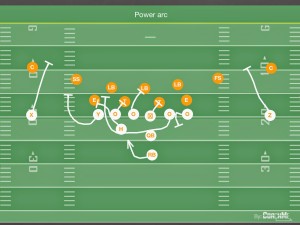 In the clip below, the DE we are going against (#59) is an All Everything DE headed to BYU next year.  He is very well coached, and very difficult to run power against.  In this clip we use the Arc tag, he expands with our TE because the block looks like reach.  This gives our FB a much easier kick out block, and helps us run Power right at one of the best defensive players in Northern California.