Stanford RB option concept
If you have watched any Stanford film from this season you have probably seen Christian McCaffrey running circles around defenders.  They involve him heavily in the run game and return game but perhaps his most impressive skill is as a receiver out of the backfield.
The core concept to feature his crazy agility, footwork, and cutting skills is the RB option route.
Formation
Stanford primarily runs this from some form of 3×1.  By putting 3 to a side they are able to stress the defense to covering up those WRs.  They have to keep a corner home on the backside against the single WR.  This often leaves them with a 1on1 match up on the backside with C-Mac and a LB or safety.  In Stanford's case he is their best athlete period (most teams best player is their RB).  It gets him matched up 1on1 against a player with lesser cover skills.
Stanford can run any concept to the trips side.  If the defense is playing 2 defenders over their 3 they can pick that side apart with their quick game.  When the defense works 3 over 3, it is an easy decision to work the backside of the field and work C-Mac on the option route.  They can run different things with the backside single WR but they typically will run him vertically to remove the corner from the equation.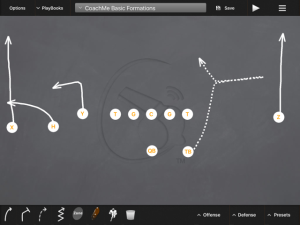 Stanford often uses a quick out concept to the trips side.  This is the exact play they use in both video examples below.
Option Route
The RB will work around the OT attacking the outside shoulder of the LB or safety over him.  I have read that they try to push this to 5 yards of depth but C-Max often breaks this route sooner to make his move before the LB/Safety is able to get hands on him.
Attacking the outside shoulder puts pressure on the defender.  He has to decide what kind of leverage he wants to defend C-Mac with.  If he stays heavy inside the Rb will break to the sideline and run away from the defender.  If the defender opens his hips to the sideline or is playing with outside leverage the Rb will make a move out but break across his face attacking the middle of the field.
In the 2 examples below C-Mac is abel to put the pressure on the defender, fake him outside, and cut across his face to a wide open middle of the field.
vs USC in Pac-12 Championship (C-Mac 1on1 vs a LB)
https://www.youtube.com/watch?v=TbNJ4-h9n_M
vs Iowa in Rose Bowl (C-Mac 1on1 vs a Safety)
https://www.youtube.com/watch?v=foW96qLGZ8A